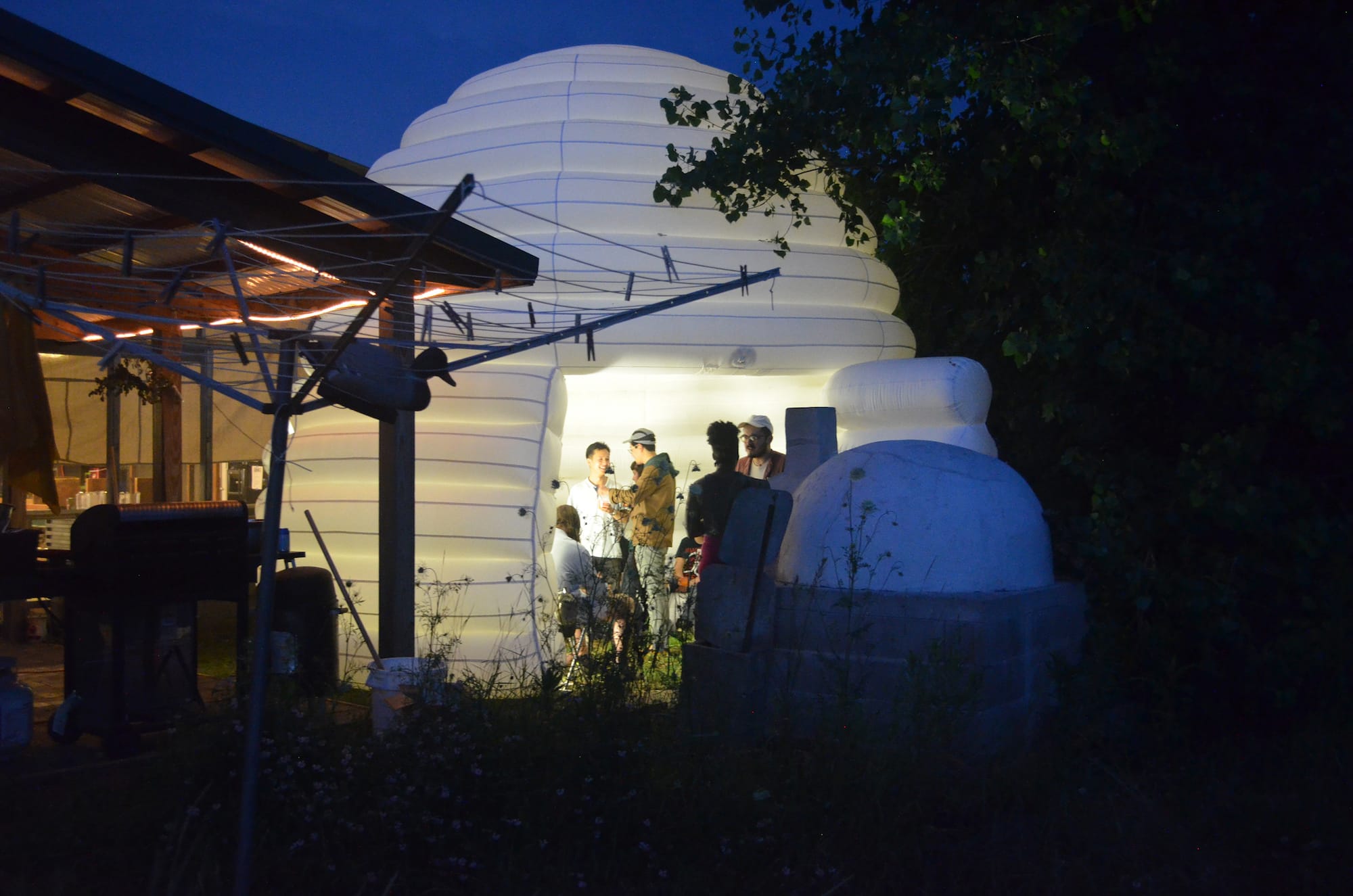 Is it possible for an architectural space that can be used by anyone, to happen anywhere, anytime?
The Warming Hive realizes a collaborative research and design project exploring pneumatic technology in relationship to mobility, sociability, and environmental responsibility. Adaptable to a variety of site and seasonal conditions, this air-filled structure offers capabilities of implementation and transportation that cannot be matched by traditional construction: it is economical, inflates in under three minutes, and can easily be packed up and transported to any location for temporary and event-based uses. Designed with built-in pneumatic seating and an insulated, fireproof, and projection-friendly skin, The Warming Hive provides a thermally comfortable year-round shelter for exhibition, cooking, and gathering. Interchangeable inflatable doors, designed to work around an outdoor oven, offer numerous spatial configurations, while an oculus offering glimpses of the sky exhausts excess heat and smoke.
The Warming Hive was designed by architecture students at University of Wisconsin-Milwaukee in 2016, taught by Assistant Professor Whitney Moon, in collaboration with artists Katy Cowan, Nicholas Frank, and John Riepenhoff. Fabricated by Landmark Creations in Minnesota, this structure is able to have a lifespan of several years, rather than days, changing the typical perception of pneumatics structures as disposable, wasteful, and unreliable.
Whitney Moon
Whitney Moon is Assistant Professor of Architecture at University of Wisconsin-Milwaukee, where she teaches architectural history, theory, and design. A registered architect in California and Wisconsin, Moon earned her Ph.D. in Architectural History & Theory from University of California, Los Angeles, and B.Arch from California Polytechnic State University, San Luis Obispo. uwm.edu/sarup/faculty-staff/moon-whitney